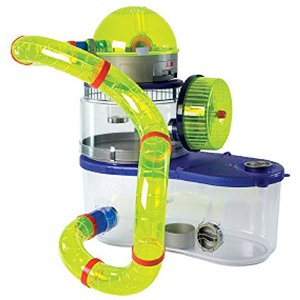 The Rotastak Space Command hamster cage is a modular hamster cage type. It has several sections and units: Cargo Hatch, Spinning Vortex and Observation Tower. The largest of the sections is the Rotastak main housing unit.
Rotastak Space Command can be used for dwarf hamsters but not in its standard design.
For use with dwarf hamsters the Rotastak Space Command must be built in an alternate layout that is more horizontal than the standard design as the tubes are a little too big for dwarf hamsters and when vertical are rather tricky for them to negotiate.
As with many of the other cages in the range, for example the Rotastak Creepy Castle and Rotastak Pink Palace, the Rotastak Space Command does away with the traditional bars which means your hamster won't be kicking his bedding and substrate out of the cage to give you another clean-up job to sort out. It does have bars but they're high up and out of the way.
The modular range of Rotastak hamster cages are all compatible with a range of expansion units such as:
Pod Rotastak
Maxi Rotastak
Original Rotastak
all accessories including wheels and water bottles
As with all cages there are drawbacks to this particular type and design.
Tubes can be fiddly to put together but with a good degree of care and attention it's simple enough to build. Many buyers report that the supplied instructions are a bit vague but with a little common sense aren't too difficult to do without and the cage can be assembled in under half an hour.
Most hamster cages come with hamster wheels that are too small for a fully grown hamster and it's also true of the Rotatstak Space Command. Normally it's not too much of a problem as the wheel can be removed and replaced with a more suitable alternative. With the Space Command though the wheel is located in a unit attached to the outside of the cage which means it can't be removed and there's not alot of room on the inside for a large hamster wheel.
If you're looking for a hamster cage for baby hamsters then the Rotatstak Space Command is not the best choice.
When it comes to cleaning the cage out it's a bit of a bind as all the different fiddly parts need to be taken apart and then obviously re-assembled after cleaning and drying.
Conclusion
What's good about the Rotastak Space Command is the look and the varied exercise and exploration it offers your hamster with the different climbing tubes, wheel and chambers. What is also a useful benefit is that it can easily be expanded with the range of Rotastak expansion units and accessories.
What's not so good is how fiddly it can be to put together, the lack of quick and easy cleaning, and the lack of sturdy security.
If you're looking for a modular cage and like this range then the Rotastak Space Command is as good as any in the Rotastak hamster cage range.