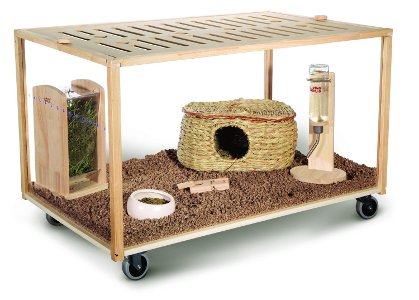 The Living World Green Eco Habitat Large from Hagen is a monster cage. It's the biggest cage of the 3 cages available although the other 2 cages: The Living World Green Eco Habitat Medium (H: 49 cm, D: 55 cm, W: 95 cm) and The Living World Green Eco Habitat Small (H: 43 cm, D: 75 cm, W: 55 cm) are not to be considered small by any means.
If you're serious about providing your hamster with a roomy environment then this cage will do the job if you've got a space big enough to put it.
It makes a great dwarf hamster cage or Syrian hamster cage. Dwarf hamsters in particular are really active and love nothing better than zooming around their cage and this cage gives them the scope to do that, and then some.
The sides of the tank are made from a tough plexi-glass material that is not only strong and durable but very light so the Living World Green Eco Habitat tanks are very easy to move around, especially as the tank is on wheels, so you can move this hamster cage around for your viewing pleasure — as well as the hamster's.
The lid of the tank is made of strong MDF and has large slots to allow superb air ventilation. The lid can be fixed in place and is secured by strong wooden catches, or can be removed completely to provide complete access for cleaning and handling your hamster.
The environmental aspect of the design hinted at in the name of the cage comes from the use of recycled rubber-wood for the main cage structure that forms the frame for the plexi-glass sides.