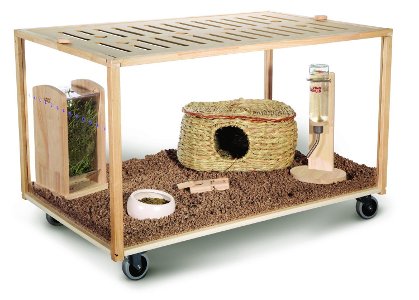 There are 3 Living World Green Eco Habitat hamster cages available in this environmentally friendly range from Hagen. Aside from the medium size there's also (you might have guessed it) the Living World Green Eco Habitat Small (Height 43.5 cm, Depth 75 cm, Width 55 cm) and the Living World Green Eco Habitat Large (Height 75 cm, Depth 115 cm, Width 49 cm).
The Green Eco part of the name comes from the use of recycled rubber-wood which is pretty tough and as such is great for use in hamster cages.
This is one large hamster cage, in fact one of the largest featured on Hamster Cages HQ, although it's not the largest in the Green Eco Habitat range.
Although it looks like it might be very heavy it's lighter than you'd think due to the use of plexi-glass sides rather than normal glass. The cage also sits on castors so you can move it around simply and easily. However if you'd rather show off your massive hamster cage on a unit rather than the floor the wheels will come off.
The sturdy lid is made from MDF with wooden locks to stop your hamster escaping from the cage but you can take it off at any time. The lid has 2 cm slots cut into it to provide ventilation which of course is vital for hamster cages of the tank/terrarium variety.
The large sides of the cage also have 10 mm ventilation holes and, being clear, give your hamster a great view of what's going on in the outside world. That also means of course that you'll always get a great view of your hamster.
With all the features of the cage you might start to worry about DIY but it all fits together using just 8 screws which doesn't sound too challenging.