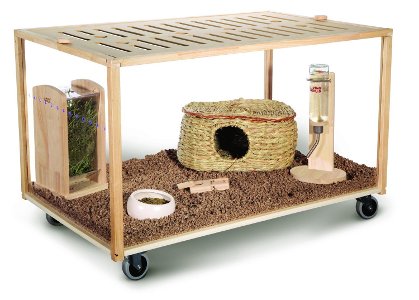 This cage is the smallest of a range of 3 with the other cages being the Living World Green Eco Habitat Medium and the Living World Green Eco Habitat Large.
The Living World Green Eco Habitat cage is made from rubber wood and is what gives this small animal cage it's name. I'm not sure what difference it makes to the hamster but if you want to do your bit for the environment this could help you along your way.
This cage makes an ideal cage for hamsters that love a bit of space and enables a deep layer of substrate to allow the natural burrowing instinct to kick in.
The cage is very easy to put together and once assembled sits on four wheels which makes it pretty easy for you to move it and your hamster to the best spot in your home.
One consideration to bear in mind is that you will need to buy liners in order to prevent your hamster's waste products soaking into the material of the habitat.