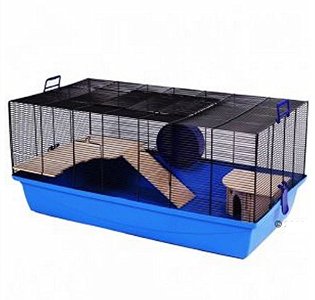 Barney Cage review
The Barney Hamster Cage is a pretty big hamster cage and is one of the few suitable for both Syrian and dwarf hamsters. The Barney Cage is often compared to the Alaska Hamster Cage by searchers looking for a good combination of size and price — the two cages are very similar on both counts.
The gaps between the bars are 0.7 mm but in the corners the distance between the bars is slightly larger. In the opinion of one reviewer, the cage is suitable for Winter White or Campbell dwarf hamsters but only when they're fully grown. The corner gaps though will allow Roborovski hamsters to escape.
5 Stars for Barney Hamster Cage
Overall the Barney is a great and very affordable cage and is generally much bigger than cages to be found on the high street.
Buyers comments include statements such as "Brilliant,fantastic cage for a good bargain price", "Fab cage,one of the best you can buy!" and "Amazing cage can't fault it!".
Apart from the gaps in the corners the only slight problem seems to be the wooden shelf, ramp and house. Some people have taken to covering the items in Plastikote to prevent the hamster's urine from soaking into the wood and producing a permanent smell.
The main points to bear in mind are as below but read the full buyers reviews for extra details. You can also watch a video review at the bottom of this cage.
The best bits…
Lots of space
Very sturdy
Could do with…
A large front drop-down door
Wheel is too small
Wooden platforms can absorb hamster waste products
Video Review of the Barney Hamster Cage
This video review will give you a better idea of the actual size of this cage.