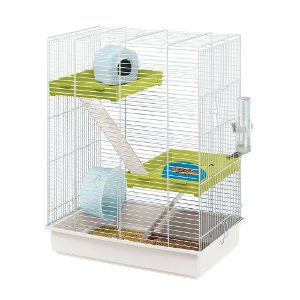 Hamster Tris Cage review
The Ferplast Hamster Tris cage is a taller than usual cage. The dimensions of the cage base though are fairly standard so although your hamster has more vertical space to explore and exercise in, the cage itself won't take up extra room in your house.
The extra space for exploring is supplied by two free plastic shelves that your hamster can travel between by using the supplied ladders (or by climbing up the bars — Syrian hamsters are great climbers).
Hamster Tris should come with the following free accessories but be sure to check with each seller:
Plastic hamster house
Hamster exercise wheel
Water bottle
Plastic food bowl
Hamster Tris has two doors for access to the cage and the hamster — one in the front and one in the side.
When it comes to cleaning, the top wire mesh section of the cage lifts off of the plastic base by two simple catches at either end of the cage.
Pros & Cons of Ferplast Hamster Tris
The best bits about Hamster Tris include the following points:
Easy access to cage via doors in front and side
Wire mesh part easily removed for quick & easy cleaning
Extra tall hamster cage
Whilst the only drawbacks are:
Exercise wheel is too small for Syrian hamsters
Plastic food bowl may need to be replaced with something a bit more chew-proof such as a ceramic bowl