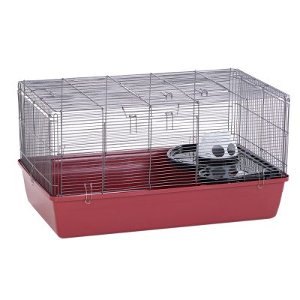 The Alaska Hamster Cage is quite a large cage with a floor space of 4,074 cm2 which is just slightly smaller than the similar but more expensive Barney Hamster Cage. The distance between the bars is just 0.9 mm making it suitable for both Syrian and dwarf hamsters.
The cage comes with an additional platform shelf with a slide down to the bottom of the cage, and an "igloo" (which some people find a little odd looking) for your hamster to have a snooze in.
The base has a generous depth of 15.5 cm which helps with burrowing and also prevents substrate and bedding from being pushed out of the cage.
Providing equipment to allow your hamster to exercise is really important and this cage is big enough to allow a large wheel.
Apart from being deep the cage base is really sturdy making it easy to move once full of bedding and hamster gear.
The cage comes flat-packed but putting it together is a fairly simple task.
The additional platform shelf looks a bit flimsy but is actually fairly sturdy and with a slightly raised edge around the outside can be covered in substrate to improve the look of it.
If the platform isn't to your taste, or you think the cat head igloo looks a bit freaky they can of course be taken out and be replaced by something of your own choice.
If you're going to use the cage for a Syrian rather than a dwarf hamster you may find it better to get rid of them anyway as they're perhaps a little on the small side for larger hamsters.
Access to the cage interior is via good sized doors in the front and top of the cage. Having two doors means you can stack the cage if required without losing access.